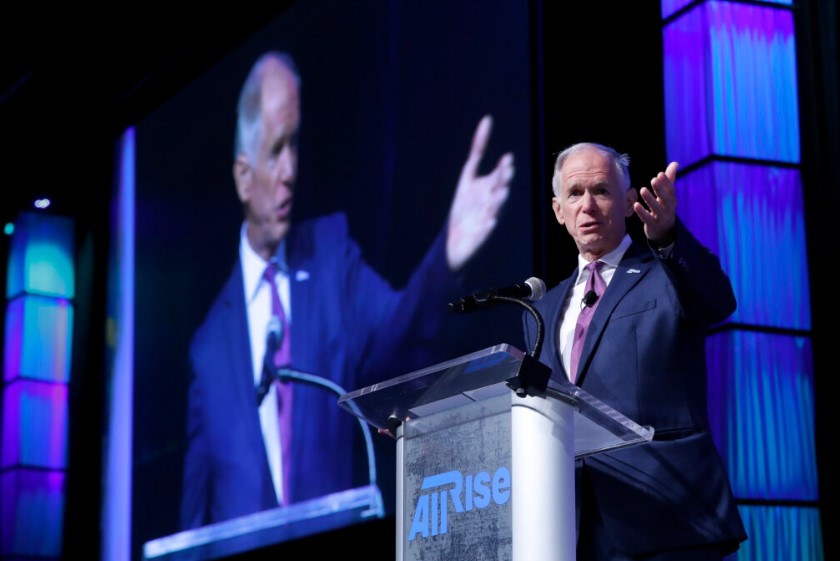 Since its inception in 1994, All Rise has continually advocated for transformative justice system responses to individuals struggling with substance use and mental health disorders. As the leading training, membership, and advocacy organization for treatment courts, All Rise has significantly impacted the justice system at every level. Most recently, All Rise recognized Judge Charles Burns' significant contributions by inducting him into the Stanley Goldstein Treatment Court Hall of Fame.
Founded initially as the National Association of Drug Court Professionals (NADCP), All Rise has spent nearly three decades championing justice system transformation. All Rise operates across four divisions – the Treatment Court Institute, Impaired Driving Solutions, Justice for Vets, and the Center for Advancing Justice. Each division contributes to All Rise's overarching mission of providing training and technical assistance at both local and national levels, advocating for federal and state funding, and collaborating with public and private entities.
In the realm of training, All Rise has been instrumental in equipping practitioners with the necessary skills to better serve their communities. From providing expertise on improving treatment outcomes for justice-involved individuals to offering advice on implementing best practices, All Rise has continually advanced the justice system's capacity to respond effectively to addiction and mental health challenges.
Aside from its advocacy and training roles, All Rise has established itself as a platform to honor and recognize the remarkable contributions of individuals within the treatment court community. The Stanley Goldstein Treatment Court Hall of Fame, named after the nation's first drug court judge, is one such platform. The hall of fame honors those who have exhibited visionary leadership and made a significant impact in the treatment court sector.
A recent example of such recognition was the induction of Judge Charles Burns, a key figure in the treatment court community. Judge Burns' Rehabilitative Alternative Probation (RAP) Program has been recognized nationally for its innovative approach to equity and inclusion, trauma-informed care, and employment assistance. His program's partnership with the Cook County Housing Authority to provide housing vouchers to participants and graduates was celebrated as a model approach to addressing housing instability among treatment court participants. This honor underscores the significant influence of Judge Burns and the RAP program on justice reform.
All Rise's ongoing efforts epitomize the progressive shift towards a justice system that values rehabilitation and empathy over pure punitive measures. As it continues to promote justice system transformation across the U.S. and worldwide, the organization stands as a beacon for effective, compassionate responses to substance use and mental health disorders within the justice system. Through recognitions like the induction of Judge Burns into the Stanley Goldstein Treatment Court Hall of Fame, All Rise is not only honoring trailblazers in the field but also motivating others to pursue innovative paths in justice reform.
Related Posts